This page is available as a PDF here: 2013 Your Wedding, Information for the Bridal Couple.
Beauty… Warmth… Awe…
Mt. Tabor Church offers all of this for your wedding, whether large or small, formal or informal. The 1910 craftsman style sanctuary offers a settings for a wedding just the way you imagined it.
Our Facilities
Our Sanctuary was originally built in 1910 and has been tastefully renovated in the years since. It holds 275 people. The Dining Room, where receptions are generally held, is directly below the Sanctuary. It has a maximum capacity of 150 people. The room can open into the neighboring Annex to accommodate up to 250 people.  Copeland Commons may be used for receptions if the wedding is for fewer than 80 attendees.
How can I reserve Mt. Tabor Church for my wedding?
Contact Tabor Space (503-238-3904) for a tour and to check date availability.
TaborSpace scheduler will put a two-week hold on the space and give you a wedding packet, including a Wedding Information Form.
Fill out and return the Wedding Information Form to the TaborSpace office.Then the Wedding Coordinator will contact you to discuss options for the ceremony and rehearsal, finalize your date on the building calendar and schedule all other staff (pastor, organist/pianist, sound technician, reception coordinator).
Included in the Wedding Package:
The services of our Wedding Coordinator, Pastor, and Sound Technician.
Use of our candelabras (the couple provides dripless taper candles)
Sanctuary use for 60-90 minutes the day of the rehearsal and 4 hours the day of the ceremony, including time for the service itself and cleanup.
Bridal party dressing areas.
60-90 minute wedding rehearsal. If scheduling allows, some Sanctuary decorating can happen at this time.
One of our pastors will be assigned for your wedding. However, the couple may choose their own Pastor to officiate at the ceremony.
Our Wedding Coordinator will be assigned to help you with your wedding. She will meet with you when you first schedule your wedding here to arrange all details, and will also be available through e-mail and phone.
Receptions at Mt. Tabor
We have a lovely Dining Room which may be used for your reception. It has a maximum capacity of 250 people, when the Annex is included, by opening the movable wall. There is also a stage in the Dining Room.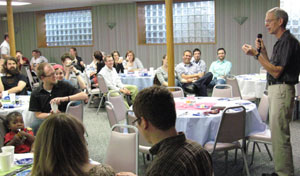 We are equipped to handle everything from a small, simple cake & punch reception, to a full meal buffet reception.
For all receptions the food must be prepared off-site. Our kitchen is available as a holding and prep area. If you wish to hire a caterer these details can be discussed with the Wedding Coordinator. The only alcohol allowed is enough to serve each guest a champagne toast. If you wish to have a champagne toast, you will be responsible to provide a licensed server and to abide by OLCC regulations.
Included in the Reception Package:
Use of the dining room and annex for up to 250 people
The Reception Coordinator, who will work with you in planning and during the event regarding room setups, dishes, and catering.
Use of church dishes & flatware, coffee service, cake & punch service. You may arrange to rent different table service, cloths, etc.
2 hours of pre-wedding setup time, 2.5 hours for the reception, and 2 hours for cleanup. The building closes at 10 PM
Decorating is the responsibility of the bridal party, and may only be done during scheduled hours. If there is enough space, you may wish to rent a dance floor from an outside vendor. The Dining Room is equipped with a PA system, where you may play music during the reception; the family provides the music selections as well as the device to play it (CD, cassette, MP3 player). If the Wedding Coordinator needs to find a non-bridal-family person to assist with setting up the Dining Room, a setup fee will be added to your total bill.
Fees for the Bridal Couple
Sanctuary Wedding: $1,225
Includes: Use of building for the rehearsal and ceremony, booking fee, Pastor, Wedding Coordinator, Sound Technician, Custodian, use of candelabras
Optional Extras:
Organist/Pianist accompanying soloist:  $150
(extra rehearsal $50/session)
Pre-Marital Counseling:  $150
Large Reception:  $1,250
Includes: Use of Dining Room and Annex for the reception & setup, booking fee, Reception Coordinator, 6 servers, Custodian, use of church dishes & serving pieces
Optional Extras:
Sound Technician $50
Extra setup person: $100
Extra Server: $50/server
Pianist: $50-100
Small Reception $875
Includes: Use of Dining Room for the reception & setup, booking fee, Reception Coordinator, 2 servers, Custodian, use of church dishes & serving pieces
Optional Extras:
Sound Technician $50
Extra setup person: $100
Extra Server: $50/server
Pianist: $50-100
For all events, a $100 non-refundable deposit is due with your completed information form. If the wedding is confirmed, this deposit will be credited towards the total price of the event. If we are unable to confirm your event, the deposit will be returned to you. There is a separate deposit for the wedding and for the reception.
There is an additional cleaning deposit of $200 per event ($400 total if having both the wedding and reception here) due 2 weeks before your event, which will be refunded if the building is left in good order and the event has not required significant extra time and effort of our staff. Mt. Tabor reserves the right to withhold any or all of this deposit with good cause.
Two weeks before the event, the remaining balance of the event(s) along with the cleaning deposit(s) must be paid. Make checks out to "Mt. Tabor Presbyterian Church."
*Discounts are given for Mt. Tabor Presbyterian Church members.